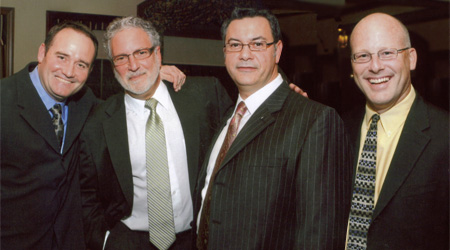 The company was founded in 2004 by David Levy, Jim Hennessey, Ed Riorden, and Sam Guglielmino in Rochester, NY. With the ingenuity and hard work of the four partners, we have built a premier beauty product and service company serving Upstate New York and parts of Western Pennsylvania. Three of the four partners are still active in the company daily.
We began with the belief that personalized service, superior products, and tailored education are the keys to business success. After decades of experience in the professional beauty industry, we collectively recognized that the increasing consolidation and cost-cutting measures of large beauty product companies created a service and education vacuum for our clients.
Our goal was to create a beauty company tailored to the specific needs and demands of salon and spa professionals that could still provide value and profitability to our customers. We realized this goal by reintroducing the philosophy of putting the customer first, and by giving beauty professionals the technical, creative, personalized support they need to run a successful salon or spa.
The Salon Accessories Difference:
Superior Customer Service
A sales team that comes directly to and personally knows its clients, provides next day delivery, hassle-free billing, and the ease of immediate credit for returns of product, if necessary. This is tailored customer service to meet the specific needs of our clients.
Superior Education
Access to cut, color, and product knowledge classes that provide clients with the latest global beauty trends and promote technical and creative advancement.
Superior Products
A holistic range of professional-only products and equipment including exclusive lines like Paul Brown, Alterna, Alfaparf, and Keune.
Superior Creative Support
Knowledgable staff that have the experience and expertise to assist their clients with all of the business and creative aspects of running a salon or spa, from initial concept design to full implementation.
We, the partners of Salon Accessories, recognize our greatest asset is our customer.
We have created a company that promotes customized care, superior service, and client loyalty as a cornerstone of good business practice.
We hope to continue to grow and be an industry leader putting salons / spas and customers first.
Salon Accessories is Professional Beauty Done Right.