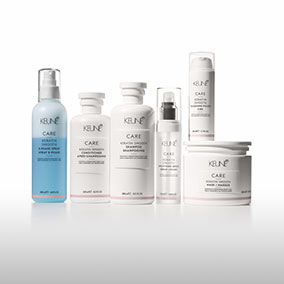 Your Prescription For Healthy Hair
Sometimes hair needs a little help to make sure it looks perfect. From sun-stressed to oily or color-faded strands, every nourishing shampoo, indulgent conditioner and healing treatment regimen in Keune Care targets a different hair and scalp problem or need.
Because the health of the scalp is vital to the condition of the hair, the extensive range of products strengthens and repairs down to the follicle with a five- mineral complex including zinc, copper, silicium, iron, and magnesium. Care is the key to giving your clients the healthiest hair imaginable.